FEBRUAR 2014
Neues Krumbiegel-Album im April:
"Ein Mann, sein Klavier und Ihr"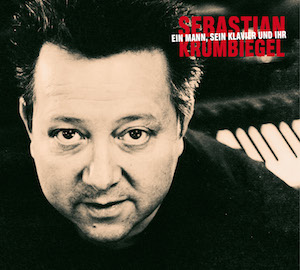 Am 11. April bringt Prinzen-Sänger Sebastian Krumbiegel endlich sein neues Soloalbum »Ein Mann, sein Klavier und ihr« heraus. Und zum Valentinstag (14. Februar) gibt es schon mal ein schönes Geschenk: die gleichlautende erste Single-Auskopplung zum kostenlosen Download (für die ersten hundert Fans). Darauf setzt sich der Sänger der Prinzen mit dem Phänomen »Valentinstag« auseinander: Ist es wirklich der Tag der Liebenden? Oder doch viel eher ein Feiertag für Blumenhändler und Süßwarenhersteller? Oder gar beides?
Das Stück ist ein »klassischer Krumbiegel«: pur und direkt, aber mit dem musikalischen Esprit und Können des ehemaligen Thomaners. Textlich fein ausgewogen zwischen Humor und Kritik. Mehr als seine Stimme, Klavier und ein bisschen Schlagwerkzeug braucht der Bundesverdienstkreuzträger für seine Lieder nicht und hebt sich so wohltuend ab vom überproduzierten Brimborium unserer Tage.
Kleiner Tipp für alle, die das Valentinstagsgeschenk (mal wieder) vergessen haben: Brennen Sie den Song doch einfach auf CD, und packen Sie diese nett ein (Herzchenpapier!). Bleibt unter uns.
Ein hochaufgel&oumlstes Cover gibt es hier
Sebastian Krumbiegel: "Valentinstag":
JANUARY 2012
The Beat! The Schlager! The Fräuleins!
Brand new compilation OUT NOW!

Following two "Funky Fräuleins" compilations (2009 and 2011, see below), the time has come for the BEAT FRÄULEINS. Back we go, deep into the sixties, when the beat forced its way into the innocent world of German schlager. When the rhythm grew hotter and the lyrics sharper, the drums louder and the guitar more distorted. BEAT FRÄULEINS brings together 19 highlights of the era, featuring Caterina Valente, Wencke Myhre, Conny Froboess, Chris Doerk, Marion (Maerz), Inga (Rumpf) and lots of other hot Fräuleins.

Read more here: English / Deutsch
Download press kit here

Here are some music samples by Brigitt, Joy and the Hit Kids, Marion, Dominique, and Caterina Valente:


JANUARY 2011
The Funky Fräuleins are back for more!
Volume 2 OUT NOW!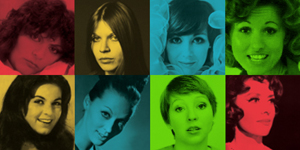 Well, if this isn't a fantastic piece of news: The Funky Fräuleins are back for more! Round two is even richer in teutonic sexiness, hips are swinging more vigorously to so much more beat and oodles of extra groove. This time we have ventured as far as the year 1981 – but only for two tracks. Mostly, we're back in the seventies, with the odd beat excursion into the late sixties. All without a single slice of disco! Amazing!

Read more here: English / Deutsch
Music samples: Fasia: Arbeitslosen-Blues / Joy Fleming: Fieber / Su Kramer: Weisser Sand / Uschi Brüning: Hochzeitsnacht

SEPTEMBER 2010
TÄTÄRÄ – brass goes indie rock
"Maximum Brass" OUT NOW

Forget everything you ever learned about big bands, jazz bands, wind sections and the like, for here come TÄTÄRÄ: young and wild, a brass and woodwind ensemble, performing their favourite songs (by The Cure, Oasis, Soft Cell, Red Hot Chili Peppers, Peter Bjorn and John, Green Day, R.E.M., Nirvana, Beck, Maximo Park, The Strokes, and Blur) just the way they want to. With heavy drums and rumbling bass. Totally analogue, naturally, loud and raw. Discover this new brass experience!

Read more here: English / Deutsch
Music samples: Apply Some Pressure / Wonderwall / You Only Live Once / Californication
APRIL 2010
New OUGENWEIDE CD out
Folk rock band celebrates 40th anniversary

The mother of all medieval bands has recorded a new studio album! Whilst countless Ougenweide epigones have sprung up out of the ground like mushrooms over the past decade, the originals took the same length of time to prepare their new work, entitled Herzsprung, a spectacular fusion of medieval lyricism and sounds of yore with folk and rock. The Hamburg formation can look back proudly on 40 years of creativity, choosing this particular anniversary to gift themselves and their many fans, old and new, with the Herzsprung album. Positively overflowing with ideas, the music draws on the riches of several centuries and a variety of different European countries, played on unusual instruments by absolute masters of the craft!
Read more here: English / German
Music samples:
Der Welsche Tanz
/
Herzsprung
/
Ein leis und traurig Lied
/
Ich sachs eins mals
/
Partite Amore
MARCH 2010
Frank Wulff (Ougenweide) plötzlich gestorben
Welch traurige Nachricht: Der Gründer der legendären Mittelalterrockband Ougenweide Frank Wulff starb vollkommen unerwartet am Freitag, dem 19. März, mit 57 Jahren – nur knapp einen Monat vor Erscheinen der neuen Ougenweide-CD, an der er die vergangenen zehn Jahre gearbeitet und über deren Fertigstellung er sich so gefreut hatte. Wir vom Label sind in den Gedanken bei seinen Angehörigen und wünschen ihnen alle Kraft, um diesen tragischen Verlust zu verkraften.
NOVEMBER 2009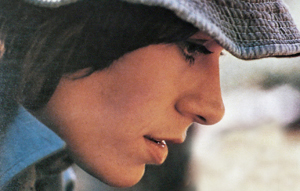 Très chic: MARY ROOS IN FRENCH
OUT NOW
"Mary Roos is the German Dionne Warwick" says TV-Star and music expert Götz Alsmann. We think, he's absolutely right. In the early 70s Mary recorded two albums and various singles in Paris. She was the star of the French Jet Set Musique. Our CD Amour Toujours. The French Song Collection 1972–1975 features the best songs of that period, 18 songs are on CD for the first time. Catchy, happy tunes sung by a great chanteuse.
Read more here: English / German
Music samples:
L'autoroute
/
Goutte Goutte
/
Quand On Fait La Musique
/
N'oublie pas lorsque tu chantes"
AUGUST 2009
FUNKY FRÄULEINS – OUT NOW
Watch out! The Funky Fräuleins are coming over us! (See cover on the right.) Groove girls, beat queens, disco divas and funky fräuleins ask you for a dance: Female beat, groove, disco, funk in Germany 1968–1978. Check these fräuleins out: Topsy Küppers, Su Kramer, Marianne Mendt, Heidi Brühl, Heidelinde Weis, Roberta Kelly, Vicky Leandros, Olivia Molina, Hildegard Knef, Evelyn Künnecke, Peggy March, Sandra Haas, Jane Morel, Renate Kern, Caterina Valente, Shirley Thompson, Marianne Rosenberg, Lotte und Leherb.
Great grooves, great fun!
Read the
booklet
/. Read more:
English
/
Deutsch
Listen to the funky fräuleins:
Topsy Küppers
/
Su Kramer
/
Heidelinde Weis
/
Sandra Haas
JUNE 2009
Esther Ofarim in London
Brand new on CD and vinyl: Moving songs sung by the most beautiful voice in pop/folk music. Produced by Bob Johnson, the man who also produced Bob Dylan, Leonard Cohen, Johnny Cash, and many more. Recorded 1972 in London, released on CD for the first time, includes one previously unreleased track, and an exclusive interview with Esther Ofarim. Breathtaking!
(Read more: English / Deutsch)
Sound-Samples:
Gnostic Serenade
/
Waking Up
/
Jerusalem
/
Hey That's No Way To Say Goodbye
SHOP